Posted: 14/03/19 by Milton Keynes Pressings Group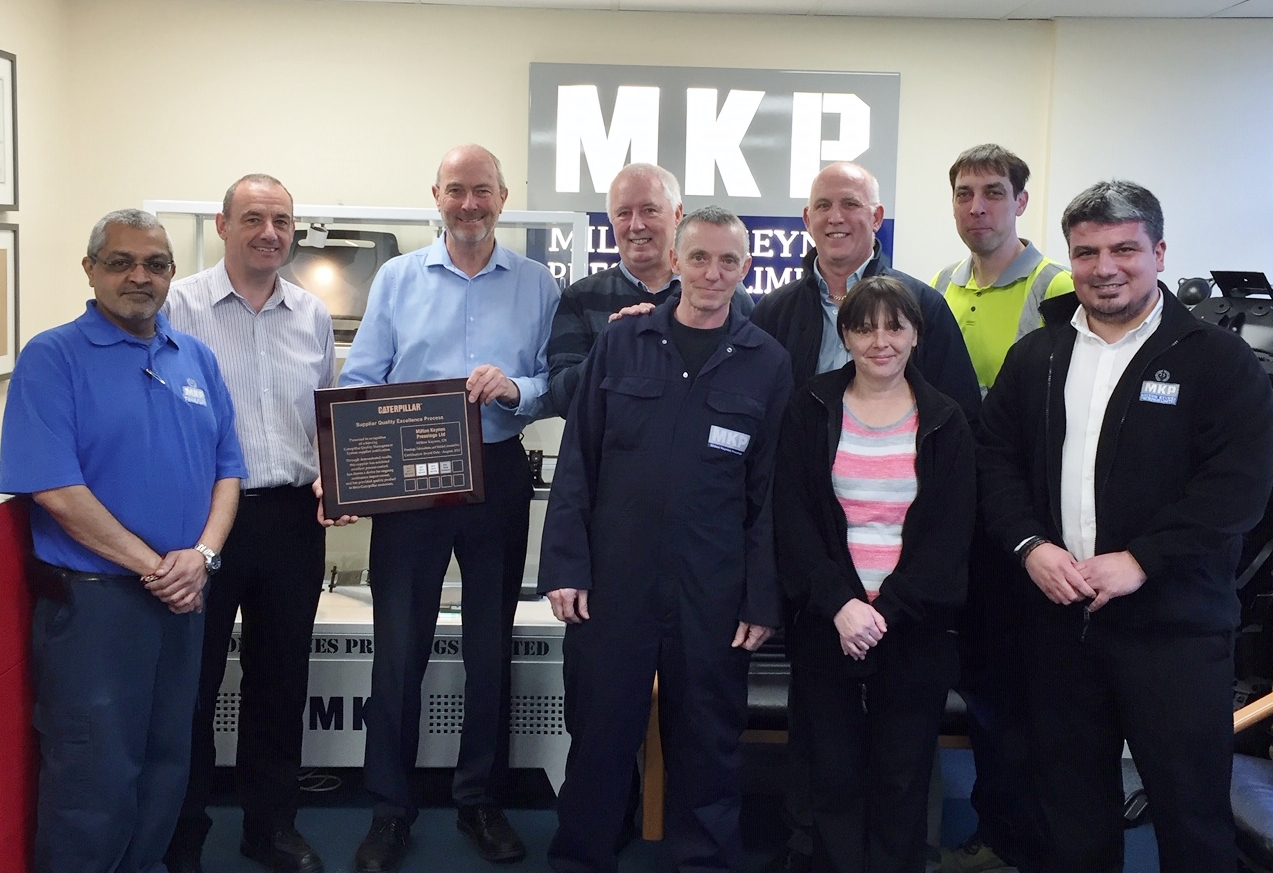 Milton Keynes Pressings Ltd (MKP) is delighted to announce their success in achieving the prestigious Platinum Award for the Caterpillar Supplier Quality Excellence Process. Having progressed through the Bronze and Silver Awards over the last 3 years, MKP improved to achieve the highest accolade within this scheme.
Within the Caterpillar Industrial Power Systems Division (IPSD) MKP are the first ever fabrication/manufacturing supplier to achieve the Platinum status. On issuing the award, Alan Wells (purchasing quality manager) commented: "Fantastic result on your achievement of Platinum SQEP….you should be very, very proud of this award".
The Caterpillar SQEP Award was created as a certification program to recognise those suppliers who demonstrate their commitment to excellence and drive a zero defects culture within their organisations. Suppliers are certified by meeting or exceeding stringent performance standards including product quality and on time delivery.
Tony Montanaro (CAT - supplier quality manager) and Terry Heames (CAT - SQEP) visited the MKP facility to present the awards to MKP group managing director Michael Read and the rest of the team involved in the Perkins account.
Michael Read was thrilled with the success: "The growth of MKP was built on excellent customer service and winning awards like this justify our commitment to supplying the best quality components. This award is a credit to the whole workforce whose enthusiastic and committed approach to delivery performance and customer satisfaction ensure we continuously improve, demonstrated by our progress through the Caterpillar SQEP award scheme."
MKP supplies pressings, fabrications and welded assemblies into the Perkins Peterborough plant, which has the capacity to produce up to 500,000 engines a year in a 125,000 square meter factory. This plant produces the fuel efficient 1200 Series, the powerful 400 Series and the popular 1100 Series. The site contains the latest automated and computer controlled-equipment and is also the base for worldwide research and development of engines up to 7.1 litre.
For more information about Milton Keynes Pressings Ltd, such as its capabilities and further quality accreditation please visit the website at www.mkp.co.uk