Posted: 21/05/20 by Age UK Milton Keynes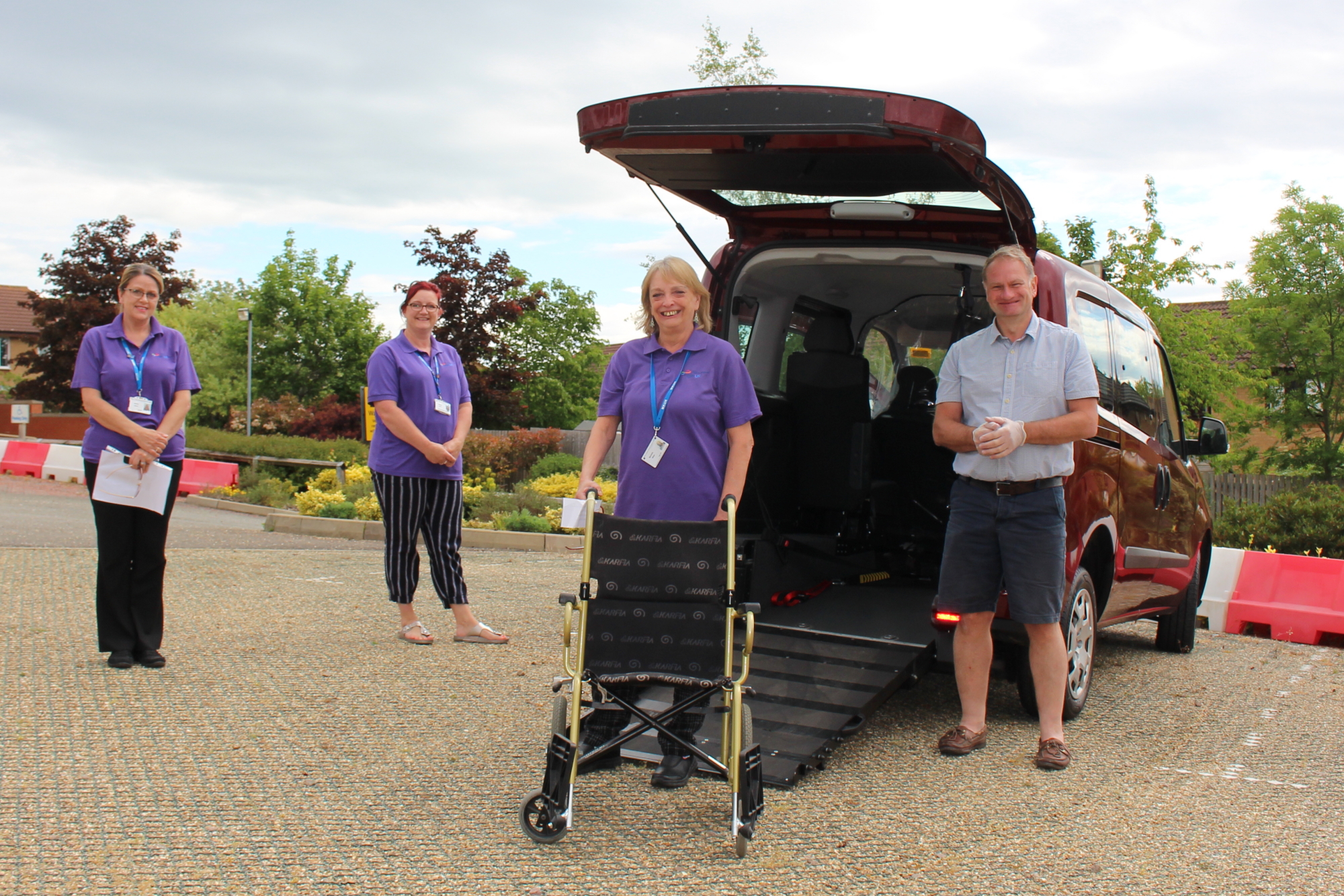 Local charity Age UK Milton Keynes says they are determined to carry on providing the Hospital Aftercare Service for local older people, and it is vital that they can do so safely during the coronavirus pandemic. By using funding from the Milton Keynes CCG (Clinical Commissioning Group) and some extra NHSE (NHS England) funding the charity has leased a wheelchair-accessible vehicle for a three month period from Fleximobility who are based in Oxford.
The vehicle will make it possible to take people home from hospital individually whilst maintaining a safe distance between them and staff. Ordinarily Age UK Milton Keynes staff use their own car but the specially adapted vehicle, with an internal protective screen between the front and the rear of the vehicle, will keep clients and staff safe, whilst ensuring clients can be transported comfortably and safely in their own wheelchair.
The wheelchair accessible vehicle can also be used to transport patients who do not use a wheelchair as there is also a seat with necessary safety belts in the back. People can access the back seat via the ramp using mobility aids if they need to. The vehicle will also enable the charity to transport equipment such as commodes and walking frames, either with or without clients.
The vehicle was delivered to The Peartree Centre in Milton Keynes by Fleximobility on Tuesday 19th May and the Hospital Aftercare Service team was given a comprehensive demonstration of how to safely load a passenger in a wheelchair. The Hospital Aftercare Service has already started using the vehicle to take people home. At the moment they are transporting approximately 15 patients a week as patient numbers are low because of the pandemic. In normal times they normally take home double that number. Not everyone the service takes home from hospital uses a wheelchair but it is hoped that having a wheelchair-accessible vehicle with an internal protective screen will mean more people can be helped.
To find out more about the services Age UK Milton Keynes is providing during the coronavirus pandemic call 01908 550700 or visit their website.