Posted: 04/04/19 by Volunteering Matters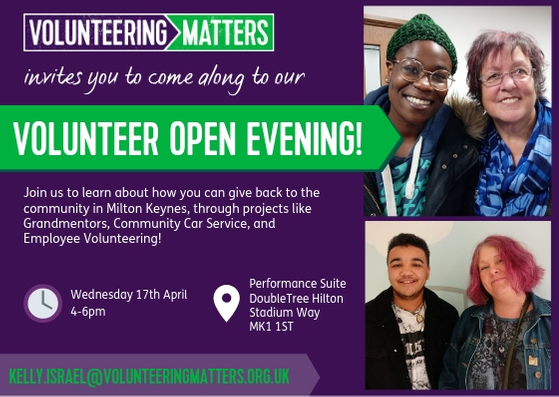 ​You are invited to join Volunteering Matters for their upcoming Volunteer Open Evening on Wednesday 17th April 2019 4-6pm in the Performance Suite, DoubleTree by Hilton, Stadium Way, Bletchley, MK1 1ST.

Meet the volunteers, beneficiaries and hear from their corporate partners.
Their projects include:
* Grandmentors: an innovative award-wining programme matching volunteers over the age of 50 with care leavers aged 16-25, to deliver impactful life-changing mentoring, aiding transition to independent living. Grandmentors is supported by the Buckinghamshire Provincial Grand Lodge of Masons, MK Council and NESTA in Milton Keynes. Additional pro bono partnership collaboration is provided by White Clarke Creative.
* MK Community Car Service: a volunteer driver scheme enabling families and older people to attend medical appointments, education and legal appointments across MK and the surrounding areas.
* Employee Volunteering: a specialist department of Volunteering Matters which develops, delivers, manages and evaluates a range of employee volunteering opportunities from one-day team volunteering to longer-term individual volunteer placements with schools and community organisations. Find out how they can enable you to offer one-off Community Action Days all the way through to long-term major national programmes of employee volunteering.
* Youth Social Action: Volunteering Matters appreciates the importance of valuing the voice of young people and enabling them to have a platform to express their views, engage in their well-being and give back to their community.
To find out more please contact Kelly Israel, Volunteer Manager, mailto:kelly.israel@volunteeringmatters.org.uk, 07936 811892, @kelsrael