Posted: 22/06/20 by Transitions UK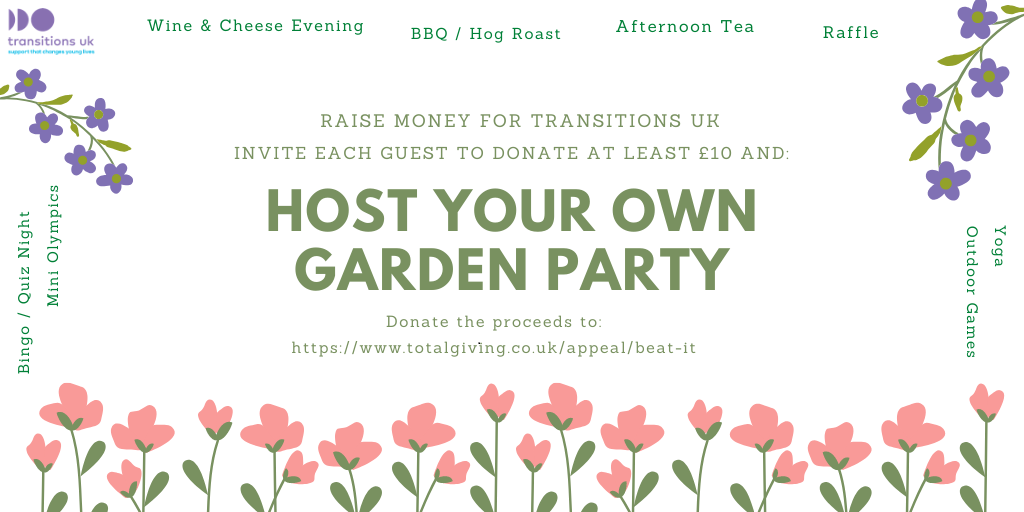 Your garden, your guests, - making change happen for young people!
Throughout June and July Transitions UK 'Meet-up-4-change' initiative invites you to organise your own garden party with up to six people, with the aim of raising at least £50 in the process. If you can raise more, then that would be amazing. You can design your own event – from a simple tea and cake event to activities and other fun ideas. Choose and date and time, invite your friends and away you go!
Invite each guest to donate at least £10 and hold a:
• Wine and cheese evening
• BBQ/Hog Roast
• Afternoon tea
• Fancy dress planting session
• Cake Sale
• Bingo or quiz night
• Yoga/Stretch
• Mini Olympics
• Outdoor Games
• Hawaiian shirt competition
• Outdoor Movie
• Raffle/Auction of Promises
Remember:
• Keep 2m apart from one another
• Wash hands regularly
• Only go inside the house to use the bathroom, wipe down surfaces after
Capturing the event
Please do take some pictures and videos of the event and send them in to kathryn.salmon@transitionsuk.org so we can share your stories on our social media
After the event
The easiest way to donate the proceeds from your garden party is to visit their Total Giving Page and pay online. Please visit https://www.totalgiving.co.uk/appeal/beat-it
Thank you so much from everyone here at Transitions UK, they really appreciate your support. £50 pays for a group of young people to enjoy a cluster activity day – so you really are making a difference.