Posted: 16/08/19 by Intercounty Truck & Van Limited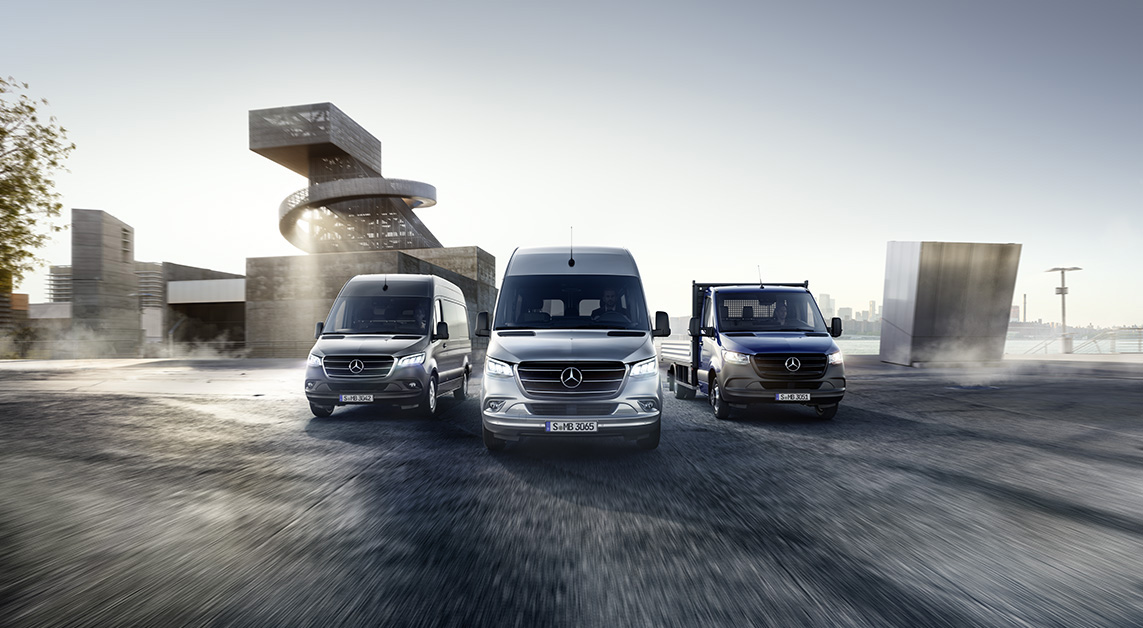 The ground-breaking Sprinter has secured its place as the favoured vehicle of British fleets, winning Fleet Van of the Year for an unpresented 10th time at the Motor Transport Awards.
Judged by some of the leading fleet operators, alongside the Motor Transport jury, Motor Transport Editor, Steve Hobson, said: "The Sprinter has now claimed this award for the 10th time, and continues to grow in popularity with our judging panel. Despite missing out in the past two years, the Sprinter has remained a perennial nominee and has always come close to claiming the title.
"From the enormous breadth of the range to the unwavering development and support from the manufacturer, the Sprinter and its back-up define what an operator needs from a van.
"The Sprinter appeals to just about everyone. Our judges spoke highly of it for its leading technology, its consistently strong residual values, its high reliability and its excellent maintenance costs. One judge summed it up neatly by saying: "It's the combination of the van and the network.""
The prestigious Motor Transport Awards took place last night at the Grosvenor House Hotel, Park Lane in London, with Andy Eccles, Head of Fleet at Mercedes-Benz Vans collecting the accolade.
Simon Neill, Sales Director, Mercedes-Benz Vans, said of the win: "This is a wonderful result and a great reflection of the hard work and commitment that as a team we are all putting in to ensure we keep our customers moving. I would personally like to thank every single member of our Head Office and Dealer Network team who have all played their part in earning this award. We are absolutely delighted and feeling very proud that our epic Sprinter has won this award for the 10th time – what an achievement!"
The Mercedes-Benz Sprinter has also lifted the Fleet Van of the Year trophy at the Motor Transport Awards in 2016, 2013, 2012, 2010, 2009, 2008, 2007, 2004 and 2003.
About Mercedes-Benz Vans UK Ltd




Mercedes-Benz has been at the forefront of commercial vehicle innovation for over 120 years. From delivering the world's first motorised van in 1896, through to the emissions-free, shape-shifting, drone-compatible Vision URBANETIC vehicles of the future, the Brand constantly drives change to keep businesses and lives moving.
Today, Mercedes-Benz Vans offers an award-winning range of cargo and people-carrying vehicles, focused on flexibility, safety, on-board technology and reliability; the small-sized Citan, versatile mid-sized Vito, the mighty Sprinter large van and chassis, and the premium X-Class pickup, as well as helping businesses of all shapes and sizes go electric with the eVito and eSprinter.
Mercedes-Benz Vans is transforming from a vehicle manufacturer, to a provider of holistic transportation and mobility solutions, and offers range of services to keep businesses moving, including free MobiloVan roadside assistance, convenient Service Care plans, funding via Mercedes-Benz Finance, Mercedes PRO connect in-built telematics, and MBUX, the world's first voice assistant in a van.
At Mercedes-Benz Vans, the dedicated nationwide workshops are open 105 hours a week on average, with 920 bays available at any one time. Last year, almost 1.2 million hours were spent keeping our customers moving across 2,000 highly manufacturer-trained technicians from 87 Dealer sites. In addition, 165 dedicated Mercedes-Benz Vans roadside assistance vehicles with 291 qualified roadside technicians fix, on average, 70% of customer vans out on the road within 135 minutes from the first call to the vehicle issue resolve.
Partnering with more than 7,000 customers, Mercedes-Benz Vans UK has customer relationships going back as far as 1974, with hundreds of new customers joining the Brand each year.
For more information about Mercedes-Benz Vans, please visit www.mbvans.co.uk.