Posted: 10/11/20 by MK Lightning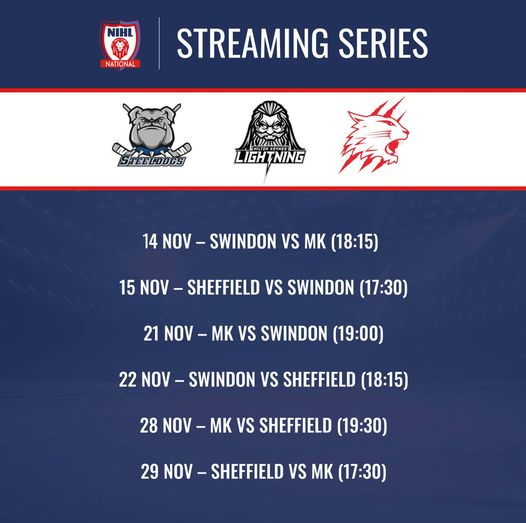 For a number of weeks now, the National Ice Hockey League (NIHL) National division owners group have been working with the English Ice Hockey Association (EIHA), the Department for Digital, Culture, Media & Sport (DCMS) and rink operators to bring ice hockey back.
Unfortunately, given the current lockdown restrictions; it is not possible to open up rinks to spectators, but three teams from the NIHL National Division will renew rivalries in a three team event called the "Streaming Series".
The Streaming Series will see each team play each other home and away and all matches will be streamed live.
The details:
The three teams are: Milton Keynes Lightning, Sheffield Steeldogs and Swindon Wildcats
No fans will be allowed entry.
Games will all be streamed on a high quality platform, with a broadly consistent experience across all fixtures and venues.
Tickets are priced at £12, with a family ticket on an optional basis at £3 per additional viewer if more of you are watching together and feel you'd like to further support your club.
Fixture dates:
14 Nov – Swindon vs MK (18:15)
15 Nov – Sheffield vs Swindon (17:30)
21 Nov – MK vs Swindon (19:00)
22 Nov – Swindon vs Sheffield (18:15)
28 Nov – MK vs Sheffield (19:30)
29 Nov – Sheffield vs MK (17:30)
Tickets are now on sale for all games at https://www.nihl-national.co.uk/tickets/
For more information, please visit https://www.mk-lightning.co.uk/