Posted: 27/04/20 by Milton Keynes Chamber of Commerce Ltd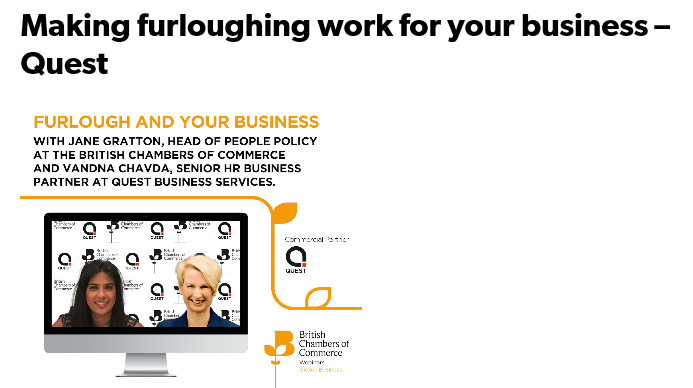 If your business has been adversely impacted by the Coronavirus, the Job Retention Scheme may provide an alternative to ensure you do not lose your talent.
This webinar, organised by the British Chambers of Commerce in partnership with Quest, will help you to gain more in-depth knowledge about furloughing.
Drawing on the latest government guidance and years of HR experience, the experts will explain how furlough interacts with existing employment law and the steps employers need to take to benefit from the scheme.
Moderated by Jane Gratton, head of people policy at the British Chambers of Commerce in conversation with Van Chavda, senior HR business partner at Quest Business Services.
A broad range of issues will be covered, including:
Friday 1st May, 10-11am.
Who can be furloughed?
Reaching agreement with employees
Statutory leave
Training while furloughed
Other work during furlough
Pension contributions
Calculating furlough pay
Claiming from HRMC
Ending furlough arrangements
Registration URL: https://us02web.zoom.us/webinar/register/WN_py-_as0kTa-Kj1pHExPEjQ
Web site link: https://www.britishchambers.org.uk/page/events/events-for-chambers
Making furloughing work for your business with Quest & BCC