Posted: 20/05/21 by Beardow Adams (Adhesives) Ltd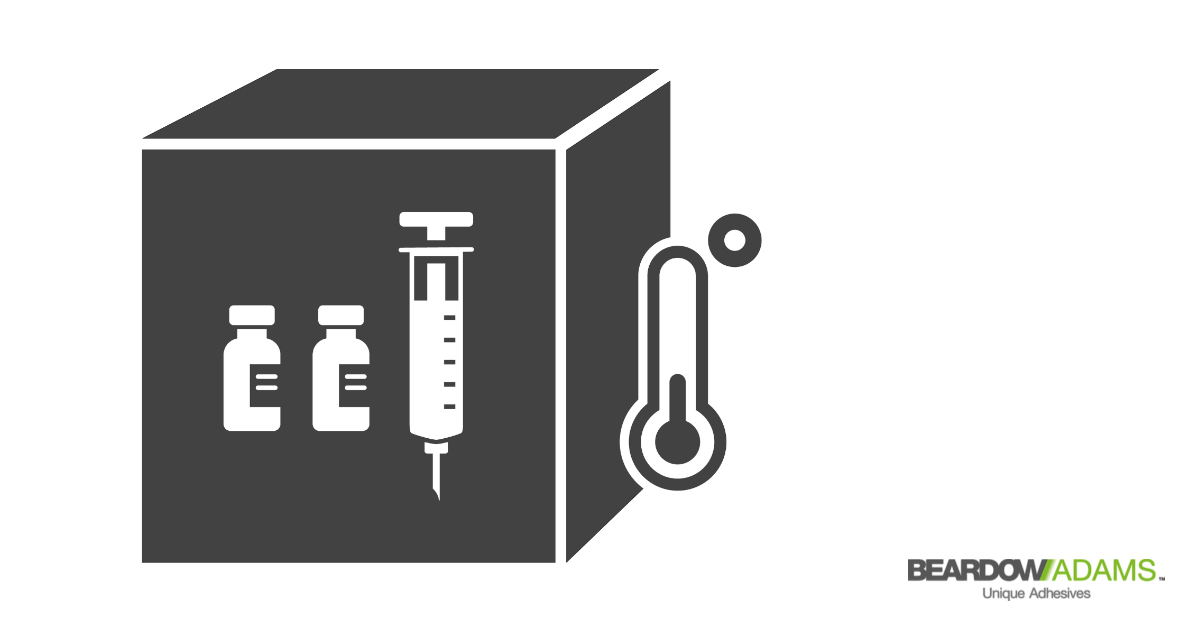 At Beardow Adams, it is important to us that all our adhesives are of the highest calibre and meet the demands of their environments. This is why we rely on ongoing product development to support our already high-performance adhesive formulations, to fulfil the challenging requests from our customers and meet the needs of the ever-changing adhesive market.
This dedication to first-class adhesives has resulted in an extremely diverse product portfolio, drawing in customers from all industries, backgrounds, and locations.
One such success, due to achieving very specific adhesive requirements, involves two of our grades which are being used in combination for the manufacture of packaging to transport extremely important supplies and pharmaceutical goods for the healthcare sector.
Beardow Adams' BAMFutura™ packaging and Pressen pressure sensitive adhesives (PSAs) are two highly efficient, thermally stable adhesive types which make them ideal for holding and transporting the likes of temperature-controlled vaccines and medical supplies.
Bonds that keep cold chain packaging safe and secure
For this customer, it was vital that our adhesives remained resilient across all the temperature requirements. The customer is using the aforementioned adhesives in two different applications for the pharmaceutical packaging industry.
The BAMFutura grade being used is a high-performance hot melt packaging adhesive which is adhering card to polystyrene in the construction of small, thermally insulated medical boxes. This water white product offers flexibility at low temperatures as well as best-in-class heat resistance.
The other application includes one of our Pressen hot melt pressure sensitive adhesives (HMPSA) which is bonding the expanded polystyrene and card that surrounds larger pallets. The pallets carry the insulated medical boxes. This PSA exhibits excellent cohesive strength and temperature resistance which is very important for this specific application as pallets are transported locally and can be very heavy.
After thorough testing of the two applications, our customer was impressed with the performance of our hot melts and delighted to find that our adhesives surpassed their former grades on all levels. Furthermore, the customer was grateful to be working with just one adhesive supplier going forwards.
Adhesives for the health sector
The last 16 months have been very challenging for all businesses, but particularly for those working in healthcare and in the supply of medical products.
We are proud that our highly-effective adhesive solutions are being used worldwide for many applications to aid and support this industry in some small, but secure way – whether that is adhesives for PPE, packaging for medical supplies, or for the actual medical apparatus themselves (for example, medical air filters, ostomy care products or diabetes devices).
For more information on our temperature-controlled adhesives or how we are making a difference in the health industry, get in touch today: marketing@beardowadams.com.