Posted: 12/10/17 by Grant Thornton UK LLP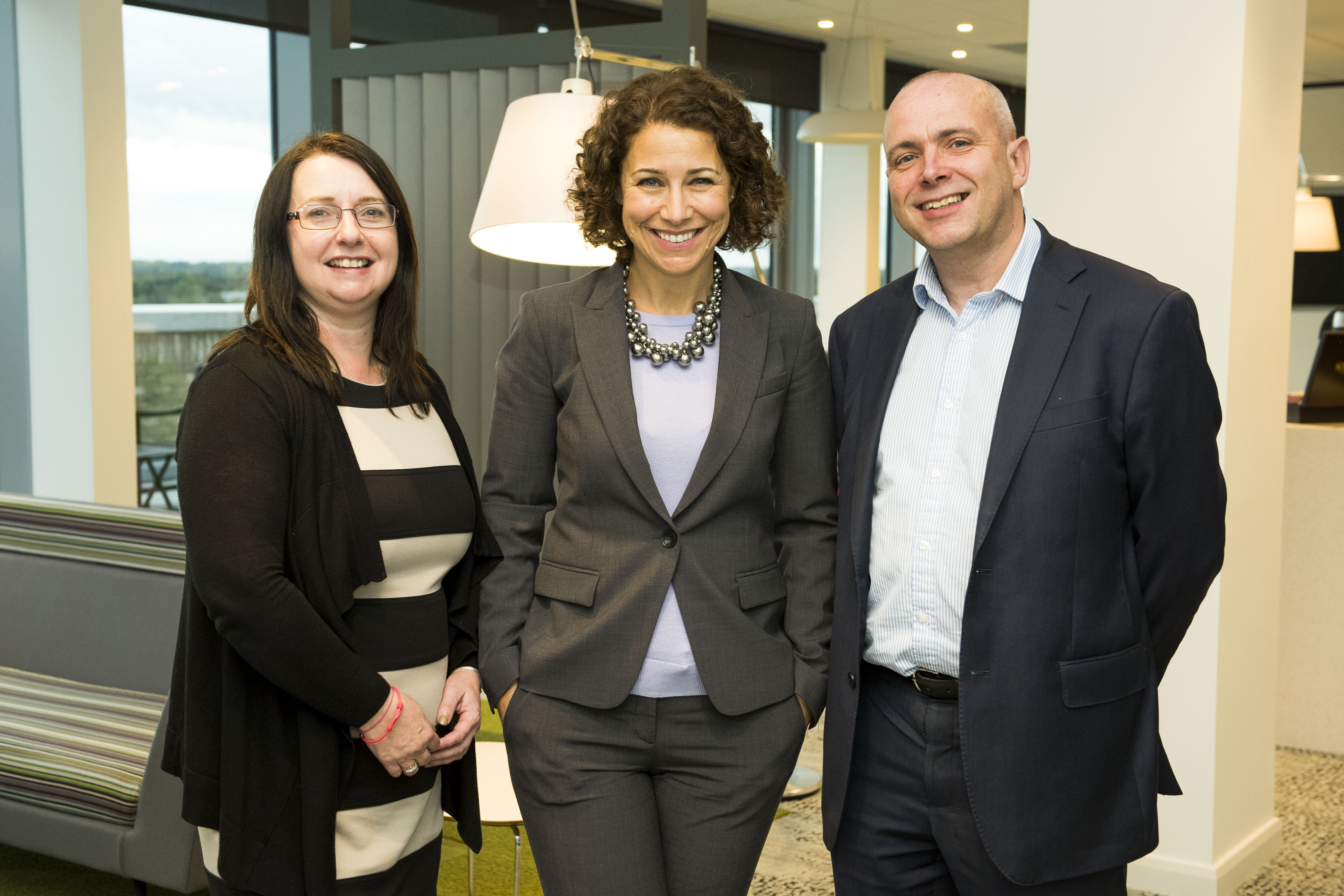 The Milton Keynes office of financial and business advisers Grant Thornton UK LLP has relocated to larger, modern premises in the heart of Milton Keynes as part of the firm's long term commitment to supporting business growth in the region.
Formerly operating from Silbury Boulevard, the almost 200 strong Grant Thornton team has moved into a contemporary 1,850 sqm space in Victoria House on Avebury Boulevard to accommodate future expansion.
The new office which offers improved facilities for both clients and employees, including on-site parking, has easy access to the M1 and is within walking distance of Milton Keynes Central train station.
More than 130 guests, including leading local figures from business, education and the public sector, joined the Milton Keynes team and Grant Thornton CEO Sacha Romanovitch on Tuesday 10 October to officially open the innovative new office which leaves behind the traditional concept of working.
Fiona Baldwin, practice leader at Grant Thornton's Milton Keynes office, said: "As the first national accountancy firm to open its doors in Milton Keynes over 40 years ago, this new office represents an exciting step for Grant Thornton as we reaffirm our commitment to the region and invest in its long term future.
"This move is also about investing in our future leaders. Milton Keynes is already renowned for being a great place to live and work and by creating this innovative, forward-thinking work space we hope to continue to attract the very best talent to the region.
"As one of the fastest growing areas in the UK, Milton Keynes has an exciting future ahead and we will continue our work with dynamic, high growth businesses across the region to help build a more progressive and productive local economy at all levels."
An additional local flavour was added to the event in the form of refreshments provided by catering students at Milton Keynes College, beer from local brewery Concrete Cow and cupcakes made by Milton Keynes start-up company Simply Good.
The Milton Keynes City Orchestra was also on hand to entertain guests throughout the evening.
Fiona added: "The idea behind asking local companies to provide food and drink for the event was to emphasise how important it is for us to maintain our position as an integral part of the Milton Keynes community. We are committed to Milton Keynes for the long term and look forward to adding value to the town for many more years to come."
Grant Thornton's CEO Sacha Romanovitch who attended the event, said: "The new Milton Keynes office is part of our long term commitment to creating an environment where people and businesses can flourish. We believe that by working together we can stimulate ideas and actions that will help realise the region's untapped potential, generating a more prosperous, vibrant economy to benefit everyone."
Grant Thornton's new Milton Keynes premises offers an innovative approach to working with a range of spaces and pods for events, meetings and discussions, encouraging interaction and collaboration. This is available to organisations to drop in or to use free of charge who share our vision for connection and collaboration.
Photo caption: L-R Fiona Baldwin, practice leader at Grant Thornton's Milton Keynes office, Sacha Romanovitch, Grant Thornton's CEO and Steve White, Grant Thornton.