Posted: 16/04/18 by Ashridge Group Ltd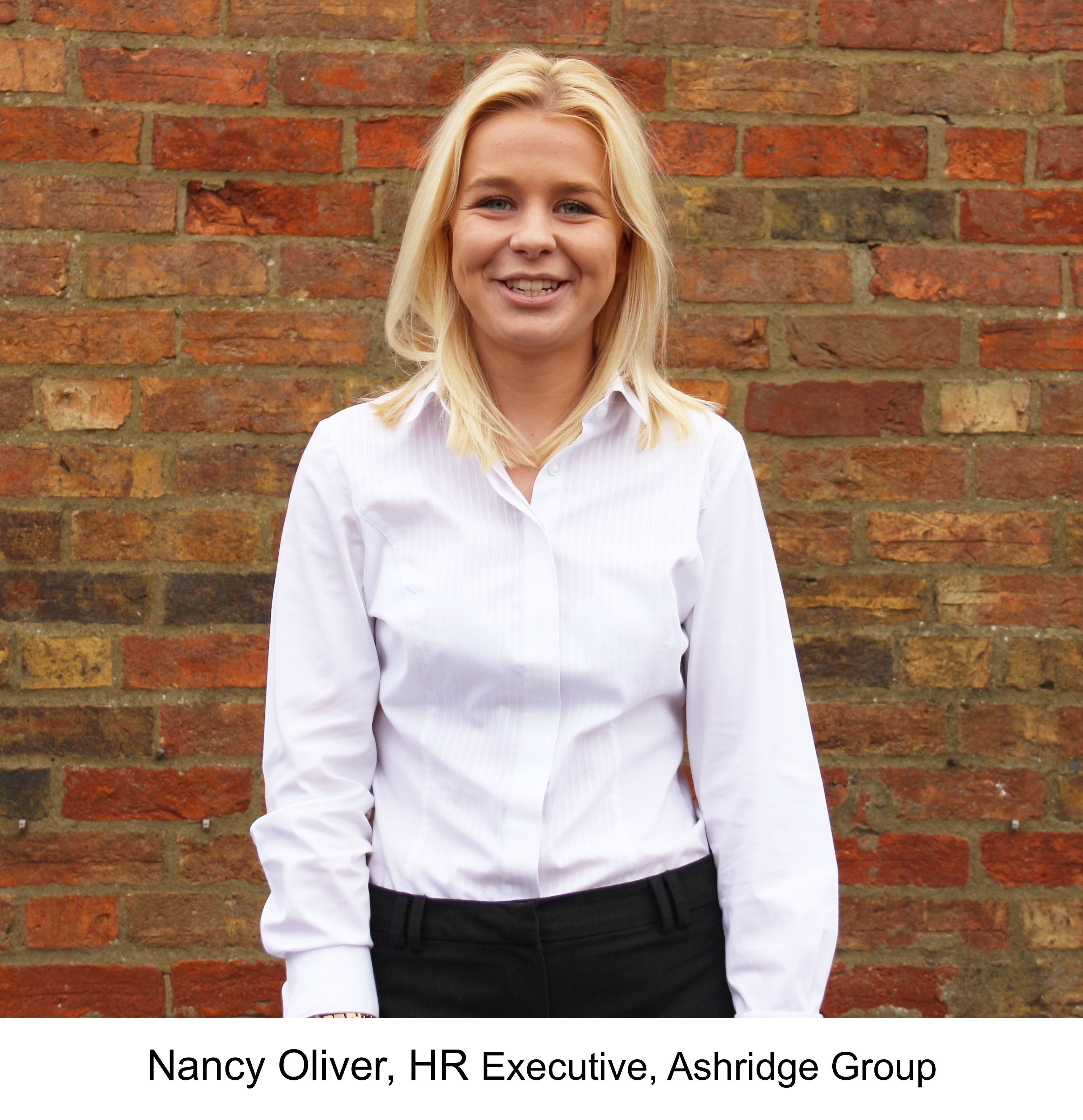 For a talented, bright "A" level student, neither the prospect of a University place nor any of the conventional career paths seemed right - then a two-week work experience changed everything.
Nancy Oliver, now an HR Executive with the Ashridge Group, found her vocation when she was offered a role with a business that seemed a far cry from her original plan to pursue a career in Sports Management.
The Ashridge Group is comprised of three businesses, Ashridge Facilities Management, Ashridge Security Management and Cognitious, a consultancy specialising in the development of corporate resilience and security packages.
"I was very good at sport, throughout my years at school" Nancy says, "and went on to gain both county and representative honours in netball, so Sports Management seemed a natural area for a professional career. I'm still not quite sure why, but when I took the college course it didn't provide the level of enjoyment or interest I had expected".
She is now established at the Ashridge Group as an HR Executive and pursuing a qualification in that discipline by day release at Aylesbury College, ironically the same FE establishment where her sports Management course came to an early halt. It was the College, however, which arranged a series of interviews for its students, designed to introduce them to the world of work, which would stand them in good stead for their first full time role. Nancy had four of these, including one each with a Social Media organisation, a Theatre Group, and a Marketing Company. On the face of it each of those alternatives to the Ashridge Group, a business concerned with security services and facilities management, could well have seemed more interesting and attractive.
Nancy explains: "I got offers from three of the interviews but there was never any doubt in my mind which to take up. Most important of all was the "connection" I immediately made to the Directors at Ashridge, Emma and Mark Walker. The whole working atmosphere was positive and friendly, and I was really impressed with their business philosophy. It was my first real insight to the importance of HR matters inside a commercial organisation".
In a sector usually associated with traditional working practices, hierarchical organisation structure, and a focus on processes rather than outcomes, the Ashridge Group, with its high standards of customer engagement, staff development programme and emphasis on standards of personal presentation, provided a surprising and exciting opportunity. Even at the early stages of a two-week placement, working directly alongside Emma Walker opened Nancy's eyes to the appeal of a career in HR.
Emma Walker comments: "What many people don't immediately understand is that our business succeeds primarily because of the quality of our staff. We put people first, not only because it guarantees a positive place to work but because we know that the ultimate beneficiaries will be our customers. They need to trust and depend upon our professionalism and our personalities too. With Nancy, we could tell that she had an almost natural understanding of that".
With absolutely no regrets in hindsight, she is now fully integrated in the organisation. Working first as Emma Walker's executive assistant across a range of administration and support tasks, she was soon offered the role as HR Executive, responsible for key tasks such as training, staff development, payroll and disciplinary processes for a workforce of some 85 people, seven based at the company's scenic rural headquarters in Aylesbury, the rest located across the company's operations nationwide.
Now, studying for the next level of her professional qualifications and with her sights set firmly on a greater HR role with the Company as it expands, with ambitious plans for a move to new offices in Milton Keynes and a growing portfolio of blue-chip clients, Nancy Oliver has a word of advice for any young person unsure of a career path.
"I'd say for anyone who is interested in people and wants a job that's about far more than processes, data and pushing at a keyboard, then HR has a lot to offer. I wouldn't necessarily say that my route to it was the best or easiest, but it does show that it's not always about getting the university degree. Sometimes the road ahead is clear, sometimes you have to go down a few sidetracks before you can see it. Most important of all is finding the right working environment with people you can trust and a set of values that make sense to you".