Posted: 09/06/21 by Crispin Rhodes Ltd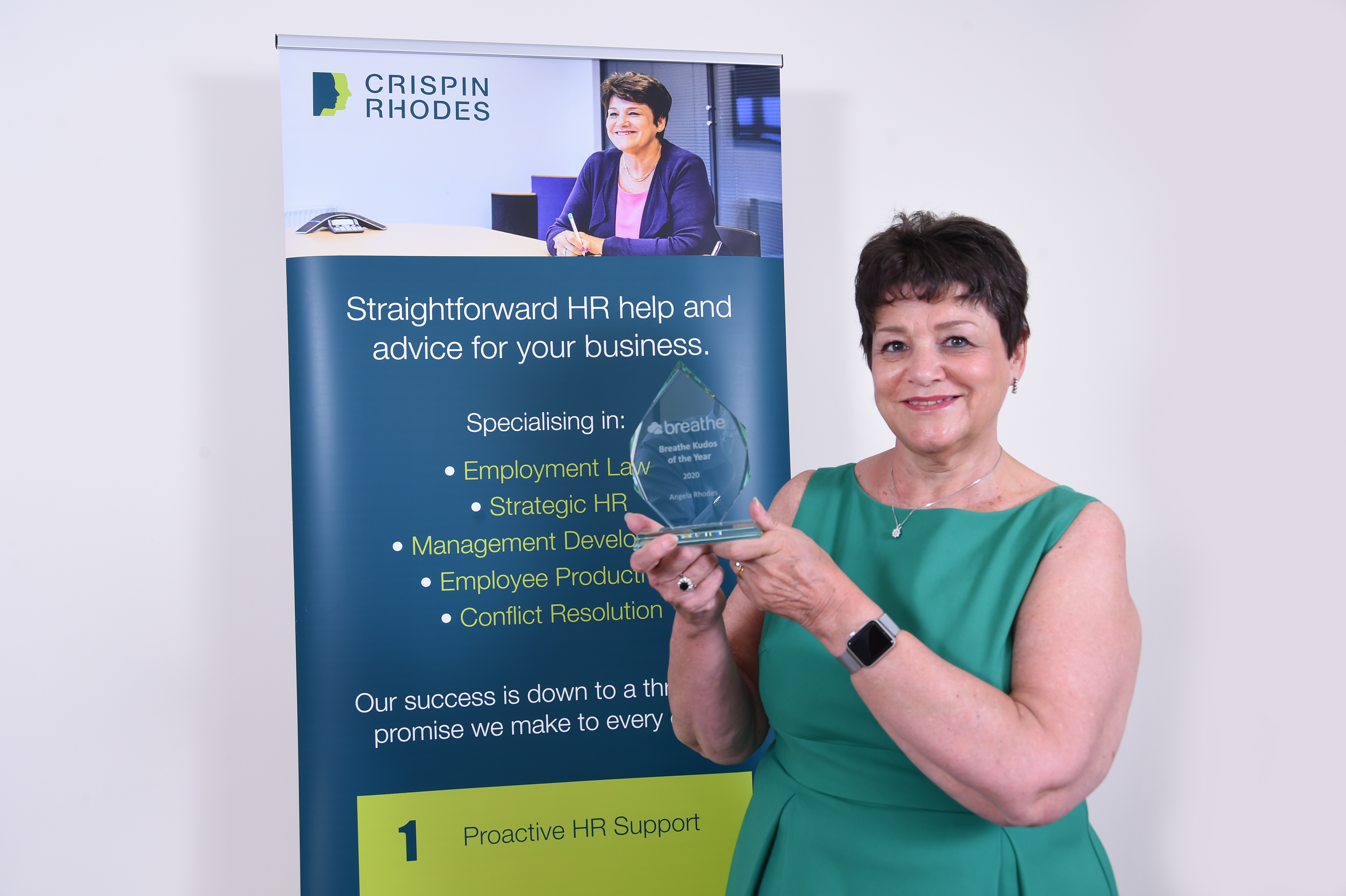 An expert HR consultancy in Milton Keynes is celebrating after scooping two prestigious awards.

Crispin Rhodes, and founder Angela Rhodes, were the first ever recipients of the Kudos Award in the Breathe HR Awards 2021. The gong recognises their undoubted expertise in the field.

Angela founded the business over 24 years ago, and since then has delivered pragmatic HR support to SMEs across Buckinghamshire. The consultancy prides itself on its three-part promise to clients to offer proactive HR support; 100% expert advice and fair and transparent fees.

Breathe HR implements intuitive, easy-to-use HR systems with one goal in mind: to help businesses free up time to focus on their people.

Angela, managing director of Crispin Rhodes, said: "We are delighted to have received this award and recognition from Breathe. We have had a true 'partnership' with this company for many years now and will continue to promote their wonderful employee data software which has enabled so many of our clients to free up themselves from endless HR admin tasks and reduce compliance risks."

Nicky Forsyth, Breathe Partner Director said: "Angela was one of the earliest champions of Breathe. She was quick to spot the benefits it could provide for her business and became an advocate of it, not only to her clients, but also to people she met at networking events etc. Thank you, Angela for your constant support over so many years."

Crispin Rhodes' Kettering-based parent company HR Solutions also took home a Breathe Awards trophy, winning the Fastest Selling New Partner Award, led by the firm's
HR operations manager Sue Watson. HR Solutions are now Diamond Partners of Breathe.

HR Solutions CEO Greg Guilford said: "After joining the HR Solutions' family in August 2020, Angela and Crispin Rhodes have continued to strengthen an already excellent relationship with Breathe. Angela regularly goes above and beyond to ensure that we consistently provide a first-class service to our Crispin Rhodes clients.

"This is fantastic achievement for all, and we were delighted to also scope up the Fastest Selling New Partner Award for Crispin Rhodes' parent brand, HR Solutions."

To find out more about Crispin Rhodes go to www.crispinrhodes.co.uk.