Posted: 26/04/21 by Milton Keynes Council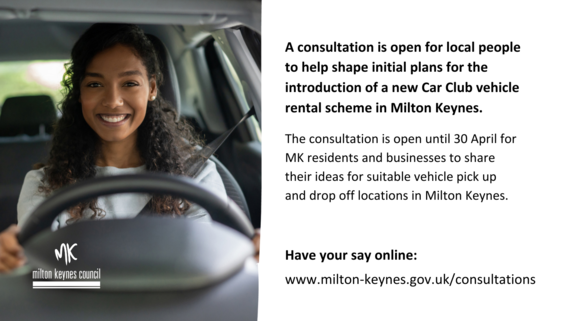 Car Club is a scheme where members have access to low emission vehicles on a pay as you go basis. It could be a very short rental of 1 hour or an all-day booking. The scheme helps to reduce reliance on a private car and can be used for multiple purposes – shopping, visiting family and friends, business, while avoiding the costs of owning a car such as maintenance, insurance and cleaning.
A consultation is currently open for local people and businesses to suggest locations for the Car Club vehicles and also to understand what cars are needed – electric, vans or smaller cars.
The Car Club project provides public rental access to cars or vans at various pick locations throughout the city delivered by Enterprise Car Club.
The consultation is open until 30 April for local people to share their ideas for suitable vehicle locations in Milton Keynes.
The project team will use feedback from the consultation to help progress the plans for the scheme.
Click here to have your say in the online consultation.