Posted: 18/02/19 by Intercounty Truck & Van Limited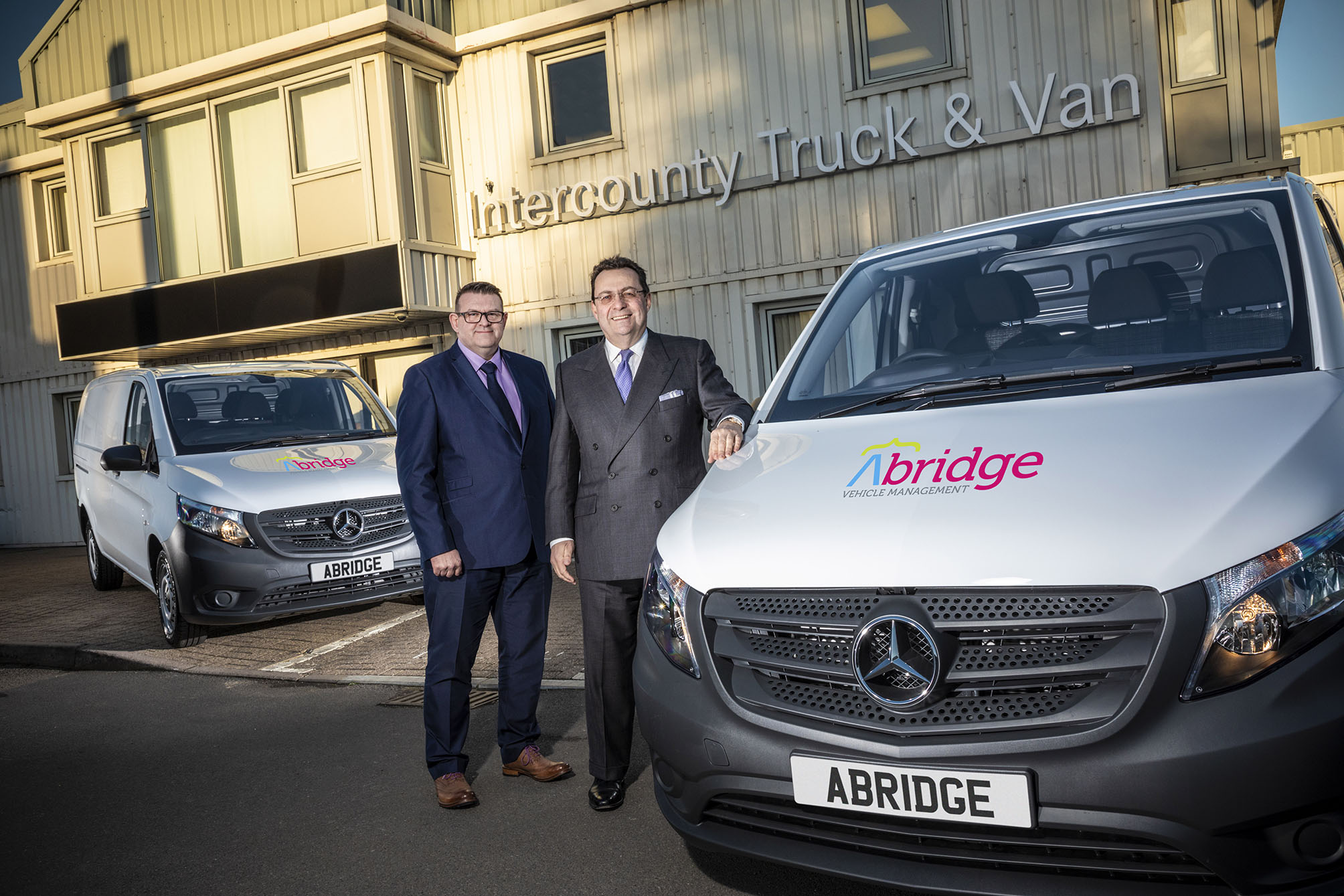 Customers of bodyshops throughout the UK are driving away in smart new Mercedes-Benz courtesy vehicles for use while their own vans are undergoing repair.
Independent provider Abridge Vehicle Management has acquired 190 Vito models from Dealer Intercounty Truck & Van since June. All are the subject of Mercedes-Benz Financial Services contract hire agreements.
Abridge operates from headquarters in Leatherhead, Surrey, and specialises in the provision of courtesy vehicles for the accident repair industry. The company prides itself on a bespoke approach that allows it to source vehicles, and tailor payment options and service, to suit the precise requirements of its clients, who include major insurers and PLCs, as well as large independent accident repairers.
Founded in 2003 by managing director Richard Pearson, Abridge added the first vans to its fleet a couple of years ago. This side of its business has since demonstrated impressive growth.
It has opted for long-bodied versions of the mid-sized Vito. Most of those supplied to date by Intercounty Truck & Van are front-wheel drive 111 CDI models, with advanced 1.6-litre engines that offer outstanding fuel economy of 45.6 mpg (combined cycle). However, Abridge has also taken a substantial number of Vito 114 CDI variants, which are powered by 140 hp, 2.1-litre engines that drive the rear wheels, as well as five small Citan 109 CDI Extra-longs.
Abridge previously sourced its vans from another manufacturer. Explaining the company's decision to switch to Mercedes-Benz, Richard Pearson said: "It is very important to our bodyshop clients that we provide them with reliable, high-quality courtesy vehicles.
"Reliability is crucial because it ensures that their customers are able to keep working when their own vehicles are in for repair, while the Vito 111 CDI also offers a particularly good payload.
"The strong residual values for which the Mercedes-Benz brand is renowned contribute to the competitive contract hire rates that we offer. They mean that we're able to provide our clients with some very attractively priced packages for what is, ultimately, a premium product."
Mr Pearson continued: "Since we started supplying them with Vito vans the feedback from the bodyshops we serve has been resoundingly positive. It's undoubtedly the case that if you provide someone with a smartly presented, quality courtesy vehicle, they're going to take better care of it while it's in their possession than they would a battered old van."
The strength of the home delivery sector means bodyshops' demand for courtesy vans shows no sign of abating, and Abridge envisages acquiring approximately 200 more Vito models this year.
"The support we've received from Regional Fleet Sales Manager James Holmes and his colleagues at Intercounty Truck & Van has been first class," acknowledged Mr Pearson. "We look forward to building on what has already become a very successful partnership over the weeks and months to come."
He added: "Of course, this is also great business from the manufacturer's point of view. How else could Mercedes-Benz arrange so many free test drives by potential customers, most of whom won't have driven one if its vans before!"
Image: Abridge Vehicle Management's Richard Pearson is pictured right with James Holmes of Intercounty Truck & Van.