Posted: 14/03/19 by Intercounty Truck & Van Limited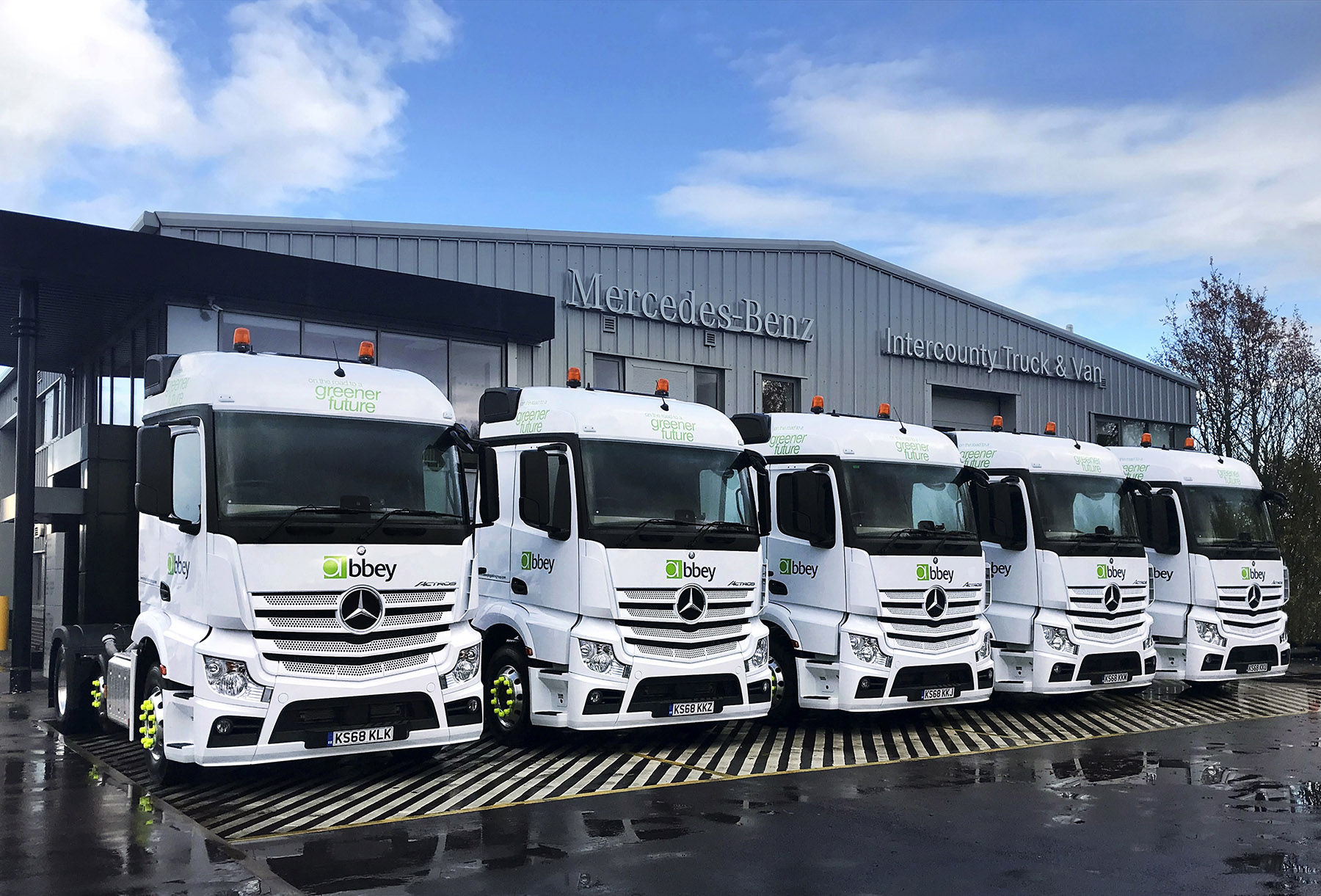 Road tanker specialist Abbey Logistics Group turned to Mercedes-Benz Dealer Intercounty Truck & Van for a fleet of 28 Actros tractor units to service two prestigious new contracts.
The operator's first trucks to wear the three-pointed star feature small-wheeled (17.5in) mid-lift axles which save around 300kg compared to the standard version with 22.5in wheels, while also freeing up valuable space on the chassis for discharge equipment.
Operating throughout the UK and Europe, Abbey Logistics provides haulage and logistics services covering bulk liquids and powders for customers across a wide variety of sectors. Most of its new trucks are now distributing cement regionally for Tarmac in Scotland, although 11 deliver flour from a Hovis mill in Wellingborough to bakeries in the midlands and south.
Mercedes-Benz went head-to-head with two other manufacturers for Abbey Logistics' latest fleet order. Key to the brand's success in winning the breakthrough order was the fact that despite being bigger and more spacious, the Actros with its aerodynamic, 2.3m-wide StreamSpace cab was also some 400kg lighter than either of its competitors – a major advantage given the payload-critical nature of its customer's operations.
Intercounty Truck & Van was also able to meet Abbey Logistics' tight delivery timetable, and put together an attractively priced aftersales package based on five-year Complete Service Contracts. Like all road-going Euro VI vehicles covered by these comprehensive repair and maintenance agreements, the Actros benefit from the manufacturer's industry-leading Zero Tolerance on Downtime pledge. It means that in the unlikely event a truck cannot be repaired within 24 hours, Mercedes-Benz will provide either a like-for-like replacement, or an equivalent financial contribution to cover the rental of an alternative.
All 28 trucks are powered by top-rated 335 kW (455 hp) versions of the second-generation, 10.7-litre OM 470 straight-six engine. The operator trialled a demonstration unit, which proved impressively fuel-efficient, and having entered service the trucks are living up to its promise, with above average mpg returns.
Abbey Logistics runs a fleet of some 400 tractor units and 550 liquid and powder tank trailers. Head of fleet Dave Boden reported: "The introduction of our first Mercedes-Benz trucks has gone very smoothly. The Actros is proving economical in both applications, and has not presented us with any reliability issues, while its competitive weight helps us realise payload benefits.
"Importantly, the feedback from our drivers has been very positive – they really appreciate the smoothness of the truck's driveline, as well as its comfortable, well equipped cab, and all-round quality. The Actros also look great in our livery, and have a real presence on the road."
Mr Boden praised the support that Abbey Logistics had received from National Key account manager Jon Roche and his colleagues at Intercounty Truck & Van, particularly with regard to the ongoing management of the service contracts. "Jon and the team are looking after us very well, and in a short time we have developed a very effective partnership which we hope to build upon," he confirmed.
The operator was awarded its new Tarmac and Hovis contracts following competitive tender processes. Abbey Logistics has significantly expanded its bulk powder logistics business in recent years – it is the UK's largest bulk food powder tanker company, and has also achieved strong growth within the polymers and minerals sectors.
Abbey Logistics provides its customers with full visibility of deliveries at all times, bespoke performance metrics, and contract-specific management information. Its account managers work in partnership with customers to identify potential areas for efficiency gains and savings.
Abbey Logistics can trace its roots back to 1973 in Birkenhead, and remained in family ownership until 2016, when CEO Steve Granite led a management buyout. The company moved a year ago to a new headquarters in Golborne, Greater Manchester, while its network of 34 operational sites includes eight main depots throughout the UK.