Posted: 08/05/19 by Franklins Solicitors LLP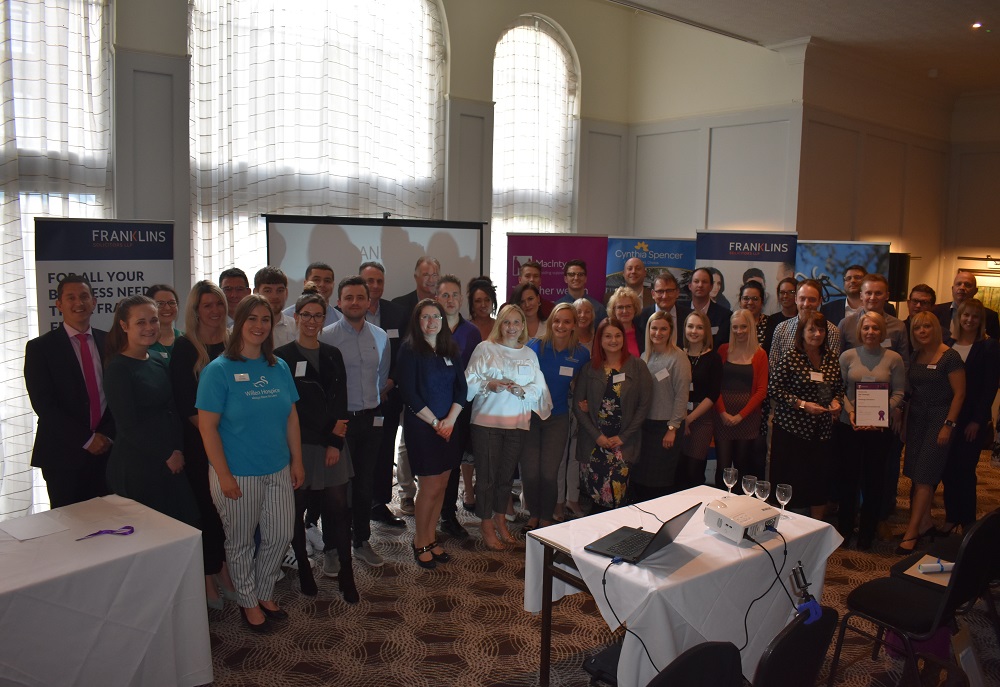 In January, 23 teams from local companies took part in the 2019 Franklins £50 Challenge to raise money for Cynthia Spencer Hospice (Northamptonshire), MacIntyre (National) and Willen Hospice (Milton Keynes).
Each team decided who they would fundraise for, signed up and received their £50 start-up donation from Franklins Solicitors LLP. It was then up to the teams to take the £50 start-up money and use all their business acumen and imagination to think-up and undertake a range of fundraising activities in order to raise as much money as possible for their chosen charity over an 8 week period. Some of the activities included: Cake sales, raffles, quiz nights, a race night, a tuck shop, an auction, a charity gig night, a guess the baby to your colleague competition, a lunch and learn, exercise classes, runs and even sales of leaves for a memory tree to other companies. All of the teams who took on the 2019 challenge did so with great gusto and this has meant a huge return for the charities involved.
"It's great to see how the challenge has been taken on by a variety of companies and also how those teams have thrown themselves into the challenge and the different types of fundraising activities that they have undertaken. Another successful challenge and lots of money raised for Cynthia Spencer Hospice, MacIntyre and Willen Hospice, charities close to our heart." commented Simon Long, Managing Partner at Franklins Solicitors LLP.
The Challenge came to a close on Thursday 21st March 2019 and on 24th April 2019 an awards ceremony was held to honour the amazing fundraising of the teams involved. Simon Long, Managing Partner at Franklins Solicitors LLP, opened the event. Chelsea Galpin from Cynthia Spencer Hospice, Lorraine Devereux and Natalie MacPherson from MacIntyre and Amy Shaw from Willen Hospice presented a number of awards throughout the evening.
Lorraine Devereux, Events & Corporate Fundraiser at MacIntyre said "MacIntyre were delighted to be invited to participate for the first time in the Franklins Solicitors £50 Challenge 2019. We had 3 teams who all embraced the challenge by investing their £50 and organising a range of different events, everything from samosa and bake sales, a 48hr static bike competition for staff at locations in England and Scotland, a 5K lunchtime run, an auction plus more over the 8 week period. In total the MacIntyre teams raised just under £6,000, a fantastic amount with every penny going towards projects chosen by the teams that support children, young people and adults with a learning disability."
Amy Shaw, Senior Corporate Partnerships Fundraiser at Willen Hospice said: "The teams really ran with the challenge this year, spending eight weeks creating innovative fundraising ideas and bringing them to life. It was great fun to see what they all got up to. With the support of Franklins Solicitors LLP all the teams raised amazing sums of money for Willen Hospice, supporting us to be there to care for people living with a life limiting illness."
The winners on the evening were:
Best Use of Social Media
• For Cynthia Spencer Hospice – DFA Law
• For MacIntyre – KAM Project Consultants
• For Willen Hospice – Nissan (a.k.a. Infiniti and Beyond)
Best Teamwork
• For Cynthia Spencer Hospice – The Pension House
• For MacIntyre - Marsh
• For Willen Hospice – Volkswagen Group
Most Original Fundraising Idea
• For Cynthia Spencer Hospice – Nationwide. The team filled 300 red envelopes with fortune cookies, with a number of envelopes also holding a £5 or £10 note, or a token for a prize for Chinese New Year and it was one of their most successful fundraising activities of the challenge.
• For MacIntyre – Nampak Plastics. The team coordinated a 48 hour static bike ride so that people from their offices in both Milton Keynes and Livingstone could all participate, despite being physically 368 miles apart.
• For Willen Hospice – Volkswagen Group. The team worked on a 12 hour sponsored football match: two members of their team played football for 12 hours straight with other people paying to play for an hour at a time.
£50 Challenge Champions
• For Cynthia Spencer Hospice – dbfb who raised £7,817.00
• For MacIntyre – KAM Project Consultants who raise £3,384.67
• For Willen Hospice – Handelsbanken who raised £4,531.43
This year's fundraising together with the amount raised last year for the inaugural Franklins £50 Challenge means that a massive £85,661.95 has now been raised for these charities by corporate teams locally. This is a fantastic achievement, which has exceeded everyone's expectations!
With the close of the 2019 challenge, Franklins will be looking to announce the Franklins £50 Challenge for 2020, so watch this space!
The Franklins £50 Challenge is a fantastic opportunity for local businesses to support local charities and to encourage teamwork and competition. The challenge provides the perfect platform to promote your business and gives you a chance to network with other participating companies. It also helps to enhance your business profile as you engage with your suppliers and customers during the challenge. If you would like to register a team for The Franklins £50 Challenge 2020 or want to find out more about what is involved, please visit contact Jodie Commercial on jodie.commercial@franklins-sols.co.uk or call 01908 660966.