Posted: 30/10/18 by Intercounty Truck & Van Limited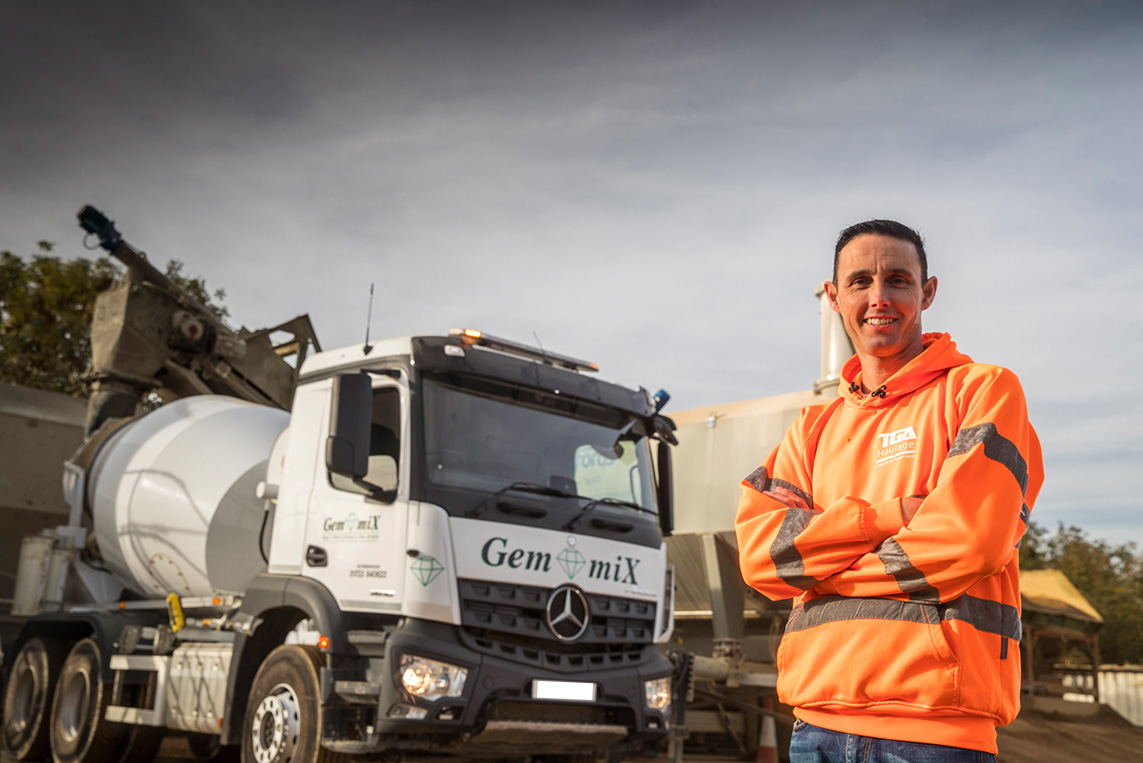 Four years after he launched his own business Tom Allen has acquired his first new truck mixer, and true to form he's chosen a muscular Mercedes-Benz Arocs from Dealer Intercounty Truck & Van.
Mr Allen established Peterborough-based TGA Haulage in 2014, following his father's retirement – the two previously worked in partnership, under a different name.
Not long before John Allen called it a day, he and his son purchased one of the first vehicles from the purpose-designed Arocs construction range to be supplied by Intercounty Truck & Van. Finished in the livery of high-profile customer Hanson, the eight-wheeler has been completely reliable and impressively fuel-efficient, and provides oustanding service to this day.
No surprise, then, that when Tom Allen needed a new 26-tonne truck mixer, his first call was to Paul Hind, Truck Sales Executive at the local branch of Intercounty Truck & Van. The Arocs 2632 B mixer chassis has a ClassicSpace M-cab and is powered by a state-of-the-art 235 kW (320 hp) 7.7-litre straight-six engine. Its 6m3 drum, meanwhile, was manufactured and fitted in Glasgow, by McPhee Mixers.
The plan, originally, was for the Arocs to replace TGA Haulage's previous six-wheeled Mercedes-Benz. However, the 10-year-old Axor is still going strong, and such is the demand for his company's services that Mr Allen has now decided to run the two trucks side-by-side.
Both are assigned to a contract with fast-growing readymix concrete and floor screed specialist Gem-Mix, and bear its name and logo. They load at Gem-Mix's facilities in Coates, near Whittlesey, and Barnwell, a couple of miles from Oundle, then deliver to customers located within an hour's drive.
Mr Allen explained: "Six-wheelers are more appropriate for this operation, because the work regularly takes us onto smaller sites that an 8x4 vehicle would struggle to access."
He continued: "I love our latest Arocs. It's beautifully put together and a genuine pleasure to drive, with some great assistance and safety technology. The truck is returning approximately 8 mpg, which is very good given that the engine PTO is used to drive the mixer drum while we're stationary. The Arocs also performs brilliantly on rough terrain, where its high ground clearance is a big advantage."
Mr Allen added another string to his bow last year in the form of a concrete pump hire service. Capable of placing material at distances of up to 80 metres, TGA's Putzmeister pump is mounted on a compact and highly manoeuvrable 7.5-tonne FUSO Canter chassis – the popular FUSO light truck range is sold and supported exclusively by Mercedes-Benz Dealers in Britain.
Mr Allen confirmed: "Intercounty Truck & Van look after me really well. Once again Paul Hind handled all of the bodybuilder liaison, and ensured that the acquisition process went very smoothly.
"It's clear that the Dealer also understands how important it is to my business that unplanned downtime be avoided at all costs. If ever I have an issue I know I can rely on its workshop team to take the vehicle in overnight, and have it ready to go again first thing the following morning. That level of service takes a lot of beating."