Posted: 09/07/19 by Inspired Sales & Lettings Ltd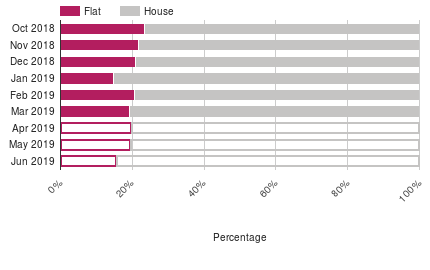 Inspired Sales & Lettings Ltd used a stacked bar chart to show the relative proportion of flats and houses selling in the last nine months in their area. Due to the profile of the housing stock in the area, there's nothing too surprising here, but it's interesting to see how the different types of properties contribute to total sales levels.
If you would like to know more on Milton Keynes housing market or receive a copy of our full monthly report, please contact the office on 01908 373580 or pop into the office at 181 Queensway, Bletchley, Milton Keynes, MK2 2DZ.