Posted: 31/05/18 by Transport Systems Catapult Ltd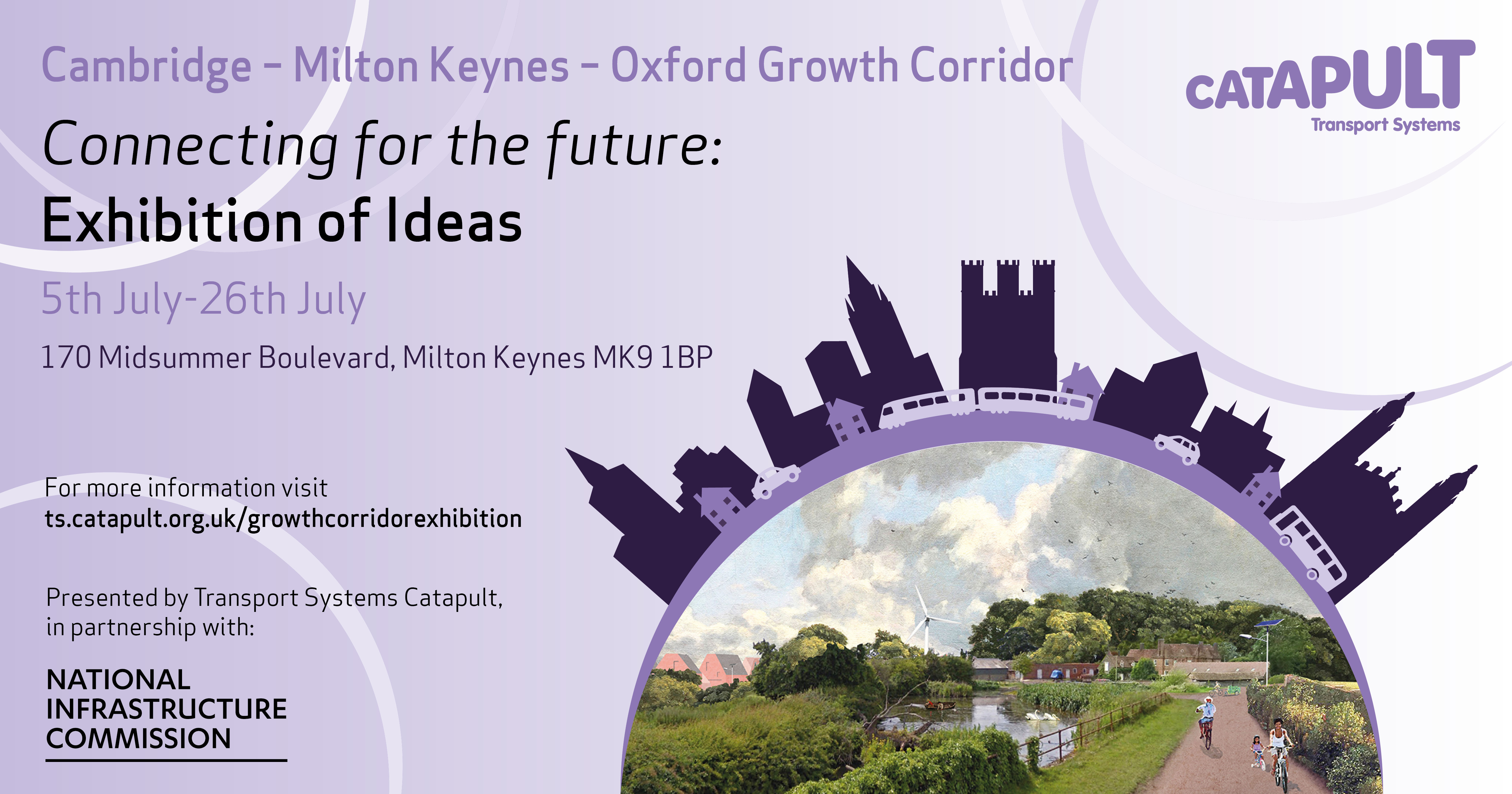 A new public exhibition housed at the Transport Systems Catapult on Midsummer Boulevard in Milton Keynes will showcase visionary ideas for the future of the Cambridge – Milton Keynes – Oxford growth corridor.
The exhibition features entries to a competition ran by the National Infrastructure Commission which asked teams of urban designers; architects; planning, policy, and community specialists; landscape designers; development economists; and others with local knowledge and general insight to come up with concepts which could contribute to the development needs of the area.
This includes providing the homes the area needs, integrating the delivery of transport infrastructure with high-quality places, and maintaining the environmental and cultural character of the area.
The Cambridge – Milton Keynes – Oxford corridor is home to 3.3 million people and hosts some of the UK's most successful cities, as well as world-leading universities, knowledge-intensive high-tech firms and highly-skilled workers.
The competition followed an announcement by government backing the Commission's vision to build up to one million new homes across the corridor by 2050 and announcing plans to complete a new East-West Rail link and an Oxford-Cambridge Expressway by 2030. The NIC have recently published a report 'Partnering for Prosperity: A new deal for the Cambridge-Milton Keynes-Oxford Arc'.
Helen Wylde, Chief Engagement Officer at the Transport Systems Catapult said: "The corridor that spans Cambridge, Milton Keynes, Northampton and Oxford defines one of the most productive and fastest-growing knowledge networks in the United Kingdom. Yet within this area significant housing and transport pressures exist which could restrict growth.
The Commission's project is a once in a generation opportunity to build holistic solutions to these challenges which delivery not just new homes, but places which support innovation, business growth and connectivity. At this exhibition you will get a glimpse of what is possible."
Commissioner and competition jury member Professor Sadie Morgan said:
"The Growth Arc is home to many of our world-leading universities and high-tech companies, making it one of the most economically important parts of the country – but in delivering the much-needed homes for the area, we must not lose sight of the character and natural beauty that residents cherish.
"The entries to our competition were mindful of all these things, and offered innovative and creative proposals for using infrastructure to support the development of well-connected and vibrant communities. I'm delighted that this Exhibition of Ideas will give local people a chance to see what each team came up with."
The exhibition will run until the 26th July and will be open, free to the public, daily. If you wish to find out more, you can visit ts.catapult.org.uk/growthcorridorexhibition.
For more information, please contact us:
Simon White
Email: simon.white@ts.catapult.org.uk
Tel: +44 (0)1908 359999 ext 1139